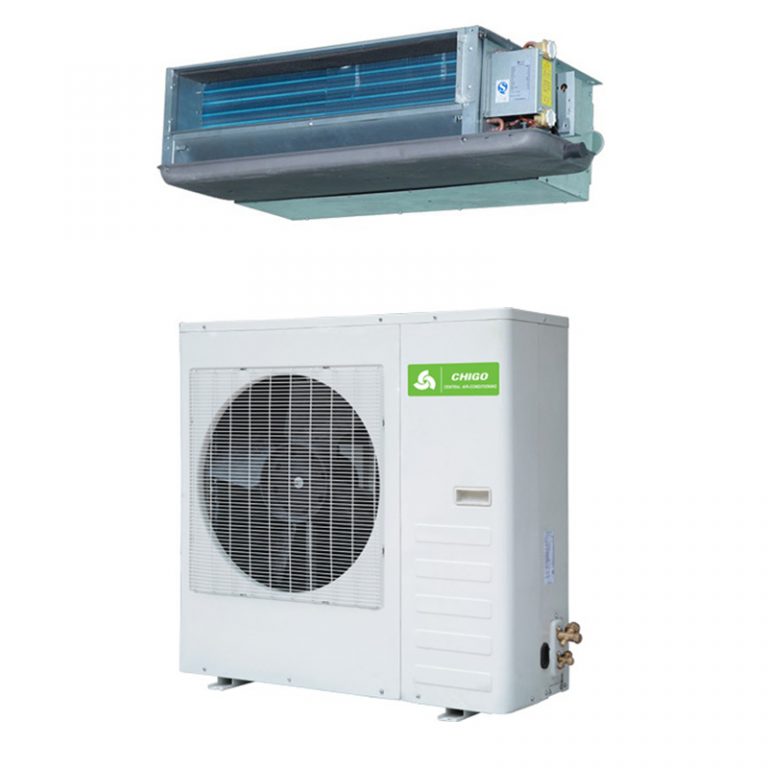 Duct AC
Duct Type Split Air conditioner in Bangladesh

Chigo Air Conditioning Co.Ltd.
CHIGO Group, Guangdong,China.
British Thermal Unit Tested.
Self-Imported, Since 1983
36,000 BTU/HR
CTB-36HR1
R410a
Power consumption High.
Eco-Friendly System manufactured.
Showroom: Dhaka-Chittagong-Sylhet
Contact:

01712 – 960 393
Availablity:
Out of stock
"Chigo Ducted Split AC supplier,importer and distributor in Bangladesh" 
Ducted air conditioner is more populer in bangladesh. Day by day, duct air conditioner demand going high position because it's industrial or commercial ac, so it's need or essential for industry or factory. You can use chigo industrial air conditioner in your organization. Chigo duct air conditioner has globaly famous because it has best service and long time service gurantee. Many industrialized are using chigo ducted air conditioner with high satisfaction.
Some grate features:
Energy Efficiency ratio High.
Durability in use.
Installation & service manual easy.
Environment friendly product.
Cooling capacity High.
All material is imported.
Type of Unit
DUCTED SPLIT
Model
CTB-36HR1
Indoor Power Supply
V-Ph-Hz
220~240/1/50
Cooling
Capacity
Btu/h
36000
kW
10.5
Input
W
300
Rated current
A
1.4
EER
W/W
2.59
Heating
Capacity
Btu/h
39000
Capacity
Kw
11.5
Input
W
300
Rated current
A
1.4
COP
w/w
3.18
Max. input consumption
W
400
Max. current
A
1.9
Indoor Fan Motor
Model
YDK110-75F-4P3H105L-1+  YSK120-150F-4P3H105-1
Input
W
300
Capacity
uF
3+5
Speed (Hi/Med/Low)
r/min
1310/1170/1090/1040+              1300/1200/1110/1060
Indoor Coil
Number of Rows
3
Tube Pitch (a) x Row Pitch (b)
mm
22 x 19.05
Fin Spacing
mm
1.7
Fin Type
Hydrophilic
Tube Outside Dia and Type
mm
Φ7.94 Inner grooved
Number of Circuits
6
Indoor Airflow (High speed)
m³/h
1900
Static Pressure
Pa
30
Indoor noise level
dB(A)
40~50
Indoor Unit
Dimensions (W x H x D) Body
mm
1425 x 663 x 260
Packaging (W x H x D) Body
mm
1490 x 720 x 325
Net/Gross weight Body
Kg
44/48
Max Pressure
MPa
4.0
Refrigerant
Type
R410A
Refrigerant Piping
Liquid Side / Gas Side
mm
Φ9.52/Φ19.05 (3/8"+3/4")
Drainage Pipe
mm
30
Standard Controller
Standard controller (wired controller for option)
Operation Temperature
°C
16~32
Ambient Temperature
Cooling
°C
-7~43
Application Area
m²
40-70
Model
COU-36HR1
Outdoor Power Supply
V-Ph-Hz
220~240/1/50
Cooling
Capacity
Btu/h
36000
Capacity
Kw
10.5
Input
W
3710
Rated current
A
6.7
Heating
Capacity
Btu/h
39000
Capacity
Kw
11.5
Input
W
3310
Rated current
A
15
Max Input Consumption
W
4800
Max Current
A
21.2
Starting current
A
112
Compressor
Model
C-SBN301H5D
Type
Scroll
Brand
Sanyo
Capacity
Btu/h
36000
Input
W
3950
Rated current  (RLA)
A
19.2
Locked rotor (LRA)
A
112
Thermal protector
Internal
Capacity
uF
60
Refrigerant Oil
ml
1700
Outdoor Motor Fan
Model
YDK-200-6B
Input
W
450
Capacity
uF
10
Speed
r/min
800
Outdoor Coil
Number of rows
1
Tube Pitch (a) Test Row Pitch
mm
25 x 21.65
Fin spacing
mm
1.4
Fin type
Hydrophilic
Tube outside dia. and type
mm
9.52 Inner grooved
Coil lenght x height x width
mm
883.5 x 950 x 21.65
Number of circuits
3
Outdoor Airflow (High speed)
m³h
6000
Outdoor noise level
dB(A)
65
Outdoor Unit
Diamension (W x H x D)
mm
1070 x 400 x 995
Packaging (W x H x D)
mm
1145 x 475 x 1120
Net/Gross weight
Kg
92/100
Refrigerant
Type
g
R410a/2100
Trottle Part
Capillary
Design Pressure
MPa
4.0/1.2
Max Pressure
MPa
4.5
Connecting Wiring
Outdoor power supply
Power supply individually for indoor and outdoor
Power wiring
mm
3 x 4.0/3 x 1.0
Signal wiring
mm
RS485 twisted shielded wire pair 2×0.5
Refrigerant Piping
Liquid Side / Gas Side
mm
9.52/19.05 (3/8"+ 3/4")
Max Pipe Length
m
20
Max High Drop
m
10
Ambient Temp
Cooling
°C
18-43
Heating
°C
-7~24