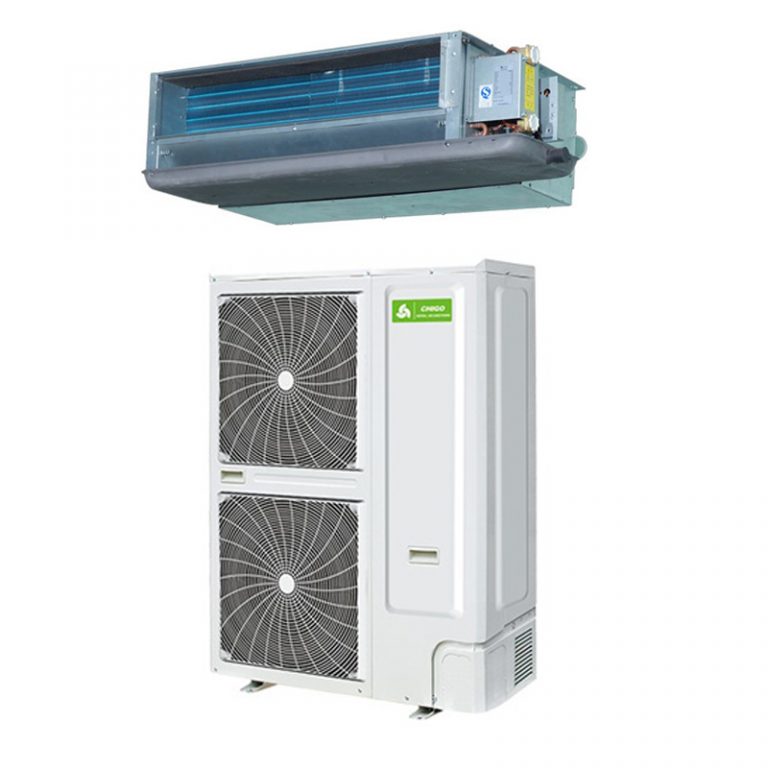 Duct AC
Ducted Split AC supplier in Bangladesh

Chigo Air conditioning Co. Ltd.
Chigo Group, Guangdong,China.
Self-Imported, Since 1983
British Thermal Unit Tested.
60,000 BTU/HR
Power consumprtion High.
Energy Efficiency Ratio High.
CTH-60HR1
R410a
Showroom: Dhaka-Chittagong-Sylhet
Contact:

01712 – 960 393
Availablity:
Out of stock
"Duct type ac importer in Bangladesh"
Duct type air conditioner is industrial air conditioner. You must use it in your industry because it is also industrial air conditioner. Chigo is the global Brand air conditioner comapny in China. Chigo air conditioner comapny export HVAC product and Home Appliance near about 200 country.Europ, America and Asian industrialized are using chigo ducted air conditioner with high satisfaction.
Smart Some Features:-
Coolong capacity High.
Fan Motor orginal.
Sensor use.
Easy installation and service manual.
Electricity consumption.
Type of Unit
DUCTED SPLIT
Model
CTH-60HR1
Indoor Power Supply
V-Ph-Hz
220~240/1/50
Cooling
Capacity
Btu/h
60000
Capacity
kW
16
Input
W
500
Rated current
A
2.3
EER
W/W
2.58
Heating
Capacity
Btu/h
60000
Capacity
Kw
16
Input
W
500
Rated current
A
2.3
COP
w/w
2.65
Max. input consumption
W
550
Max. input current
A
2.9
Indoor Fan Motor
Model
YDK-139-300F-4P3H95
Input
W
500
Capacity
uF
15
Speed (Hi/Med/Low)
r/min
1050/830/720
Indoor Coil
Number of Rows
3
Tube Pitch (a) x Row Pitch (b)
mm
22 x 19.05
Fin Spacing
mm
1.6
Fin Type
Hydrophilic
Tube Outside dia. and Type
mm
Φ7.94 Inner grooved
Number of Circuits
6
Indoor Airflow (High speed)
m³/h
2300
Static Pressure
Pa
120
Indoor noise level
dB(A)
44~52
Indoor Unit
Dimension (W x H x D) Body
mm
1175 x 610 x 370
Packaging (W x H x D) Body
mm
1245 x 655 x 445
Net/Gross weight Body
Kg
45/49
Max Pressure
MPa
4.0
Refrigerant
Type
R410A
Refrigering Piping
Liquid Side/Gas Side
mm
Φ 9.52/Φ19.05 (3/8"+3/4")
Drainage Pipe
mm
DN25
Standard Controller
Standard controller (wired controller for option)
Operation Temperature
°C
16~32
Ambient Temperature
Cooling
°C
18~43
Heating
°C
-7~24
Application Area
m²
60~105
Model
COU-60HSR1
Outdoor Power Supply
V-Ph-Hz
380~415/3/50
Cooling
Capacity
Btu/h
60000
Capacity
Kw
16
Input
W
5700
Rated current
A
10
Heating
Capacity
Btu/h
60000
Capacity
Kw
16
Input
W
5800
Rated current
A
10.2
Max Input Consumption
W
6600
Max Current
A
11.8
Starting current
A
70
Compressor
Model
C-SBN453H8D
Type
Scroll
Brand
Sanyo
Capacity
Btu/h
56000
Input
W
5750
Rated current (RLA)
A
9.77
Locked rotor (LRA)
A
70
Thermal protector
Internal
Capacity
uF
/
Refrigerant Oil
ml
1700
Outdoor Motor Fan
Model
YDK-60-6P3-2
Input
W
170*2
Capacity
uF
4*2
Speed
r/min
780
Outdoor Coil
Number of rows
2
Tube Pitch (a) Test Row Pitch
mm
25 x 21.65
Fin spacing
mm
1.6
Fin type
Hydrophilic
Tube outside dia. and type
mm
5.52 Inner grooved
Coil lenght x height x width
mm
1804 x 1250 x 43.3
Number of circuits
7
Outdoor Air flow (High speed)
m³h
6100
Outdoor noise level
dB(A)
60
Outdoor Unit
Diamension (W x H x D)
mm
911 x 400 x 1335
Packaging (W x H x D)
mm
964 x 402 x 1445
Net/Gross weight
Kg
99/110
Refrigerant
Type
g
R410A/3600
Trottle Part
Capillary
Design Pressure
MPa
4.0/1.2
Max Pressure
MPa
4.5
Connecting Wiring
Outdoor power supply
Power supply individually for indoor and outdoor
Power wiring
mm
3 x 2.5/3 x 1.0
Signal wiring
mm
RS485 twisted shielded wire pair 2 × 0.5
Refrigerant Piping
Liquid Side/Gas Side
mm
9.52/19.05 (3/8"+3/4")
Max Pipe Length
m
20
Max High Drop
m
10
Ambient Temp
Cooling
°C
18-43
Heating
°C
-7~24
Ducting
Return Air Size
mm
922 x 290
Supply Air Size
mm
740 x 270