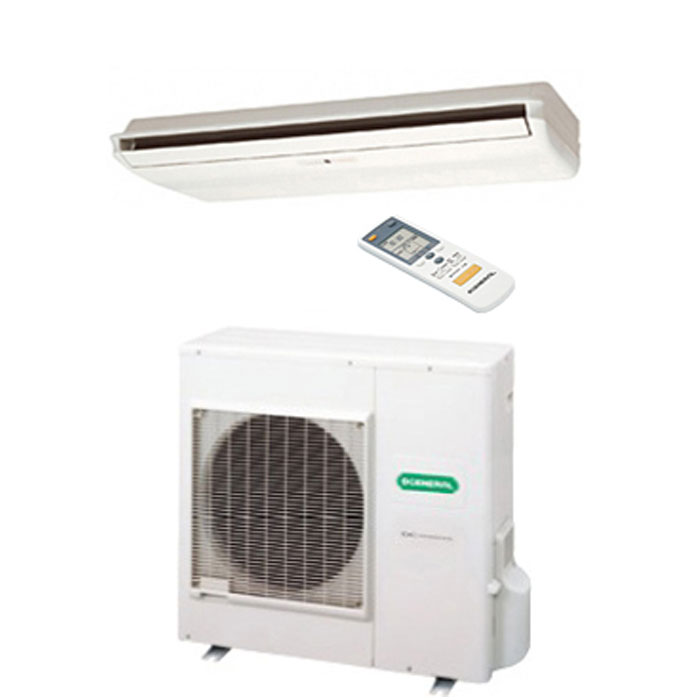 Ceiling AC
General 2 Ton ceiling Ac price in Bangladesh I ABG24ABA I

Fujitsu General Ltd. (Japan), Made in Thailand.

British Thermal Unit Tested.

Self-Imported, Since 1983.

Smart Energy Saving Unit.

Noise Level Indoor extremely Low.

Air Purifying Function.

Air Filter:Anti-Fungush & Bectria

Showroom: Dhaka-Chittagong-Sylhet

Contact:

01712 – 960 393
"General 2 Ton Ceiling ac price Bangladesh"
General ABG24AB Ceiling type ac create comfort your home or office because it has authentic btu and compressor. It's made up of Fujitsu General Ltd, Japan.  We are the self importer and vendors of General brand product in Bangladesh. You can buy general 2 ton ceiling ac price Bangladesh with high comfortably and without doubt because it's only genuine product in Bangladesh. It's unique and distinguishing product for you do not find in other shop. General Ac price Bangladesh is our regular and top selling product. Most of the buyer wants to buy it for better performance.
Special Features:
Energy Saving unit great.
High Power consumption Unit.
High Energy Efficient Ratio.
Air Swing method 4 ways.
Noise stage Indoor really Low.
High Cooling ability.
Fantastic silence.
Fast and simple Installation.
Auto Clean and Washable filter.
Negative air ions deodorizing filter.
Temperature modification Digital.
Eco-Friendly structure.
 Compressed & stylish Shape.
Air Filter: Anti-Fungus & Bacteria.

Heavy indoor & Out Door.
High effectiveness.
3D Airflow.
Easy Mode.
Bright Eye.
Automatic Operation.
Deodorizing Function.
Air Purifying Function.
Remote Controller with back-lit display.
LED Wireless Remote Control.
24 Hour On/Off Timer.
Auto Restart after Power Failure.
Self finding with Digital Display.
Air Filter: Auto Clean.
General Ceiling Type Ac 2 Ton price Bangladesh
Fujitsu General Air conditioner always release new product in market. Ceiling Type Air conditioner has huge demand in Bangladesh in commercial use. It has super cooling mode system. There are lot of world class feature those are different to that this is best. You will find in other brand like As,General Ceiling type Ac 2 Ton price Bangladesh. This is totally unique item for us. Excellent and accurate cooling system only can gives Fujitsu General Air conditioner. We have lot of brand but we command to General Ceiling type ac 2 ton price Bangladesh. We have high confident to our product.
| | |
| --- | --- |
| Origin | Fujitsu General Ltd (Japan) |
| Assembled by | Thailand |
|  Model | ABG24ABA / AOG24 |
| Exact BTU | 24000 |
| Coverage Space | 180 (Sft) |
| Energy Saving Unit | Smart Technology (Japan) |
| Star Rating | * * * * * |
| Cooling Capacity 1 | 6.80 (Watts) |
| Cooling Capacity 2 | 23600 (BTU/hr) |
| Moisture Removal | 2.2 (Ltr/hr) |
| Airflow- High 1 | 800 (M3/h) |
| Airflow- High 2 | 470 (cfm) |
| Power Supply | 220-240/1/50 (Volts/Q/Hz) |
| Running Current AMP | 13.6 (Amps) |
| Power Consumption | 2.85 (Watts) |
| EER | 2.42 (w/w) |
| Indoor Unit Net Weigh | 30.0 (Kgs) |
| Outdoor Unit Net weight | 67.0 (Kgs) |
| Noise Level (Indoor Unit) | 34 (dB) |
| Pipe Length Maximum | 25(7.5) - m |
| Operating Temperature | 46 Deg.C |
| Refrigerant | R - 22 (Gas) |
| Compressor | Scroll (JAPAN) |
| Warranty | 2 years on compressor & 2 years free Service Warranty with spare parts. Not dust clean. |