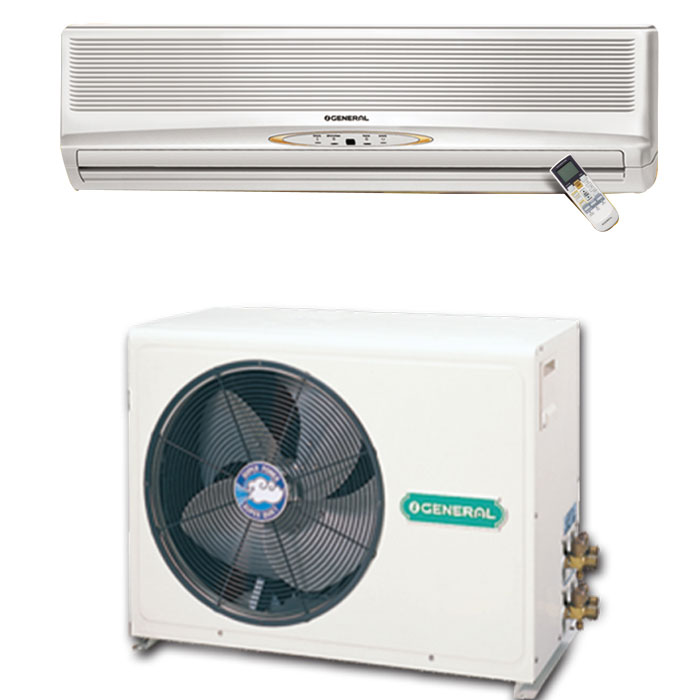 Split AC price in Bangladesh
General 2 Ton split Ac price in Bangladesh I ASGA24ABC I

Fujitsu General Ltd. (Japan), Made in Thailand.

British Thermal Unit Tested.

Self-Imported, Since 1983.

Power consumption High.

High EER.

Self Diagnosis & Auto Restart Function.

Eco-Friendly system.

Showroom:

Dhaka-Chittagong-Sylhet.

Contact:

01712 – 960 393
Availablity:
Out of stock
৳ 109,000.00
General split AC (ASGA24ABC)  is the aged model; but yet, this is merely exclusive and super cooling power General 2 Ton Split Ac price in Bangladesh. Maximum aged buyer wants to buy it (ASGA24ABC).
General 2 Ton Split Ac price in Bangladesh
It has globally crown standing for world class features and technical design. No one duplicate this product because it's only manufactures in Thailand by Japanese technology. Compressor and spare parts is the original of Fujitsu General Ltd, Japan (repairable-compressor). Continuously you may stay with run. You do not find out such kind of Air Conditioner in other company in Bangladesh. Because of, it's import only by General Ac Distributor in Bangladesh. So I think that client may select their high comfort with this with reliability.
Special Features for Air Conditioner:  We are provided world class product features for knowing about it. Every customer wants to know that please see at below:
Smart Energy Saving Mode.
Quick and Easy Installation.
Auto Clean and Washable filter.
Negative air ions deodorizing filter.
Temperature Adjustment Digital.
Eco-Friendly System.
Compact & Smart Shape.
Air Filter: Auto Clean.
Air Filter: Anti-Fungus & Bacteria.
LED Wireless Remote Control.
Air Swing System Multi.
Strong indoor & Out Door.
3D Airflow.
Comfortable Mode.
Intelligent Eye.
Air Purifying Function.
24 Hour On/Off Timer.
Auto Restart after Power Failure.
Self Diagnosis with Digital Display.
Remote Controller with back-lit display.
General Ac 2 Ton price in Bangladesh
Fujitsu General Ltd, Japan always creating comfort for comfortable human life. General Air Conditioning Company always maintain to quality. They do not compromise to quality for lessen price. Product quality, efficiency and brand value is the main key of Fujitsu General Ltd. For that reason, we are all the time getting best General Ac 2 Ton price in Bangladesh. We are the Dealer of General 2 Ton split Ac price in Bangladesh. Our service is also distinguishing. So, you can buy from us with confidently.
| | |
| --- | --- |
| Origin | Fujitsu General Ltd (Japan). |
| Assembled by | Thailand. |
|  Model | ASGA24ABC |
| Exact BTU | 24000 |
| Coverage Space | 220 (sft) |
| Energy Saving Unit | Smart Technology (Japan). |
| Star Rating | * * * * * |
| Cooling Capacity 1 | 6.90 (Watts) |
| Cooling Capacity 2 | 23600 (BTU/hr) |
| Moisture Removal | 5.3 (Ltr/hr) |
| Airflow- High 1 | 900 (M3/h) |
| Airflow- High 2 | 530 (cfm) |
| Power Supply | 220-240/1/50 (Volts/Q/Hz) |
| Running Current AMP | 12.8 (Amps) |
| Power Consumption | 2.72 (Watts) |
| EER | 2.54 (w/w) |
| Indoor Unit Net Weigh | 16.0 (Kgs) |
| Outdoor Unit Net weight | 67.0 (Kgs) |
| Noise Level (Indoor Unit) | 34 (dB) |
| Pipe Length Maximum | 25(7.5) - m |
| Operating Temperature | 46 Deg.C |
| Refrigerant | R - 22 (Gas) |
| Compressor | Admiral or Bristol (JAPAN) |
| Warranty | 3 years service warranty & 1 year free service with spare parts.Not Dust clean. |