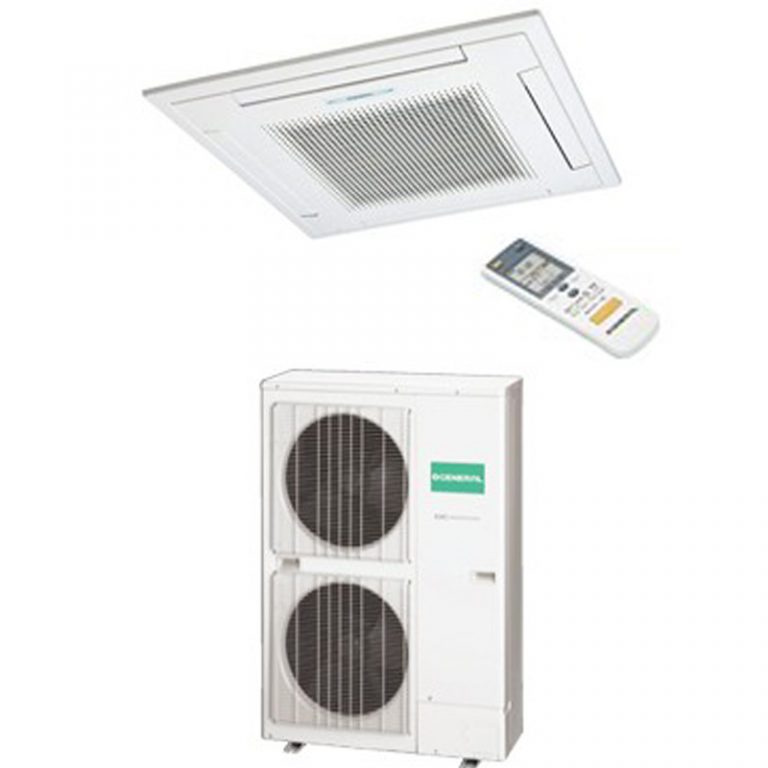 Cassette AC price in Bangladesh
General 4.5 Ac Ton Cassette price in Bangladesh I AUG45ABAS I

Fujitsu General Ltd. (Japan), Made in Thailand.

British Thermal Unit Tested.

Self-Imported, Since 1983

Power consumption High.

Low EER.

Auto Clean and Washable filter.

Temperature Adjustment Digital.

3 D Airflow.

Showroom: Dhaka-Chittagong-Sylhet
Contact:

01712 – 960 393
"General 4.5 Ton Cassette Ac price Bangladesh" 
General 4.5 Ton "cassette ac price in Bangladesh" is used in factory use or in shop or in your office. This is the most popular in industry. It is manufactured in Thailand and we import it also Thailand. Our all General brand ac is original and accurate. We have lot of sale in all over Bangladesh because we have 32 years business goodwill. You can buy it wholesale and retail prices. Our price, product and service is excellent from other company in Bangladesh. You may visit our office or shop in Dhaka, Chittagong and sylhet. We can ensure you about our product and service.
Top Features:- "General Ac price Bangladesh"
Energy reduction High.
Power utilization High.
Moisture Removal great.
Air Swing structure 4 ways.
Sound stage Indoor awfully Low.
Cooling capability elevated.
Super silence.
Speedy and simple fixing.
Auto dirt free and Washable filter.
Negative air ions deodorizing filter.
Temperature modification Digital.
Eco-Friendly coordination.
Anti Corrosion Body.
24 Hour On/Off Timer.
 Auto Restart after Power Failure.

Compacted & chic Shape.
Dehumidification role.
Air Filter: Anti-Fungus & Bacteria.
well-built indoor & Out Door
High effectiveness.
3 D Airflow.
Relaxed Mode.
Smart Eye.
Mechanical action.
Deodorizing Function.
Air Purifying Function.
Remote Controller with back-lit display.
LED Wireless Remote Control.
Self analysis with Digital Display.
| | |
| --- | --- |
| Origin | Fujitsu General Ltd(Japan). |
| Assembled by | Thailand |
| Model | AUG54ABAS |
| Exact BTU | 54000 |
| Coverage Space | 450 (sft) |
| Energy Saving Unit | Energy Saving Unit (Advance) |
| Star Rating | * * * * * |
| Cooling Capacity 1 | 13900 (Watts) |
| Cooling Capacity 2 | 47428 (BTU/hr) |
| Moisture Removal | 5.5 (Ltr/hr) |
| Airflow- High 1 | 1780 (M3/h) |
| Airflow- High 2 | 1048 (cfm) |
| Power Supply | 380-415/3/50 (Volts/Q/Hz) |
| Running Current AMP | 9 (Amps) |
| Power Consumption | 5200 (Watts) |
| EER | 2.67 (w/w) |
| Indoor Unit Net Weigh | 40 (Kg) |
| Outdoor Unit Net weight | 112 (Kg) |
| Noise Level (Indoor Unit) | 38 (dB) |
| Pipe Length Maximum | 50(20), m |
| Operating Temperature | 55 Deg.C |
| Refrigerant | R-22 (Gas) |
| Compressor | Scroll |
| Warranty | 2 Years on compressor and 2 years spare parts with free service. Not Dust clean. |