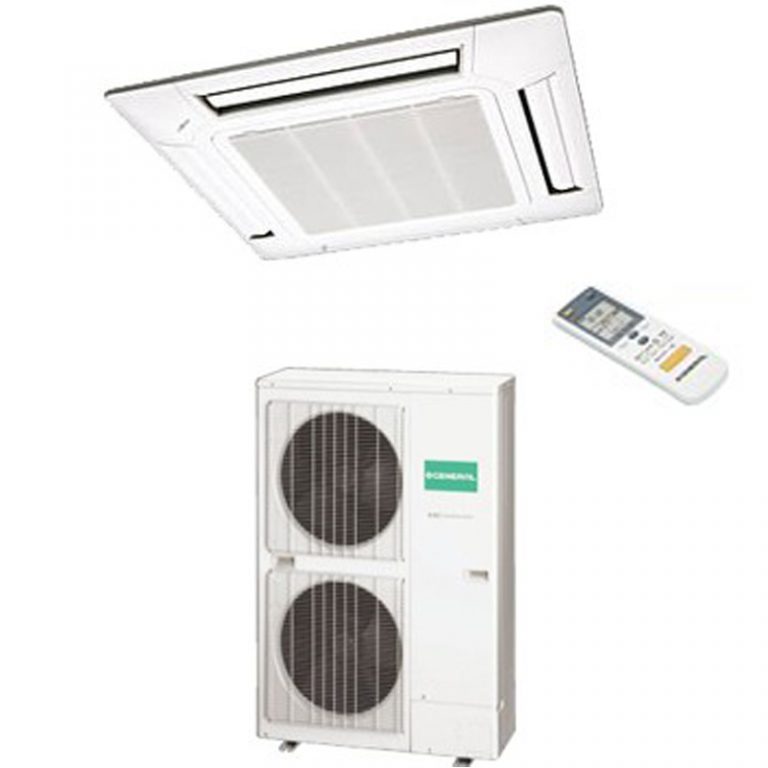 Cassette AC price in Bangladesh
General 4 Ton Cassette Ac price in Bangladesh I AUG45FBA I

Fujitsu General Ltd. (Japan), Made in Thailand.

British Thermal Unit Tested.

Self-Imported, Since 1983

Smart Energy Saving Mode.

Noise Level Indoor extremely Low.

Negative air ions deodorizing filter.

Dehumidification.

3D Airflow.

Showroom: Dhaka-Chittagong-Sylhet
Contact: 01712 – 960 393
"General 4 Ton Cassette Ac price Bangladesh"
General ac ABG48AB 4 ton "cassette type air conditioner price Bangladesh" is elevated class air conditioner in Bangladesh. It is use in shop, home or in market. It's manufactured in Thailand by Japanese technology. This is the original general brand ac in Bangladesh because its own imported air conditioner. So, we know and we can make sure this is original. We established our business goodwill by hardworking about 32 years in Bangladesh. You can order or buy your general brand ac from us with 100% authenticity.
Top Features:–
Energy Saving Mode Top.
Power consumption Unit.
High Energy Efficient part.
4 behaviors Air Swing way.
Noise Level Indoor fairly low down.
Cooling aptitude superior.
Wonderful tranquility.
Swift and trouble-free setting.
Auto germ-free and Washable filter.
Apathetic air ions deodorizing filter.
Temperature variation Digital.
Eco-Friendly assortment.
Dense & fashionable Shape.

Air Filter: Anti-Fungus & Bactria.
Well-built indoor & Out Door unit.
High proficiency.
3D Airflow.
Tranquil Mode.
Intellectual Eye.
Customary enlargement.
Deodorizing Function.
Air Purifying Function.
Remote manager with back-lit show.
LED Wireless Remote Control.
24 Hour On/Off Timer.
Auto Restart after Power Failure.
Self Diagnosis & Digital exhibit.
Cassette Type Air Conditioner price Bangladesh
General split Cassette type Air Conditioner is industrial product. It has excellent cooling coverage ability. Cassette type Air conditioner is used in open large space. We know various type of Cassette type Air conditioner price Bangladesh. On the other hand, General Cassette Ac price Bangladesh is best. It's originally from Fujitsu General Air conditioning company but now it is manufacture in Thailand with high authenticity.Most of the Bangladeshi people wants to use General Air conditioner for high reliability.General 4 Ton Cassette type Ac is the superior product. It can cover 480 sft space with 9 ft height. Smart get-up and compact design is main another features. General 4 Ton cassette Ac has accurate cooling facilities. You do not compare with other brand name company.
| | |
| --- | --- |
| Origin | Fujitsu General Ltd (Japan). |
| Assembled by | Thailand |
| Model | AUG45FBA |
| Exact BTU | 45000 |
| Coverage Space | 400 (Sft) |
| Energy Saving Unit | Smart Technology. |
| Star Rating | * * * * * |
| Cooling Capacity 1 | 12400 (Watts) |
| Cooling Capacity 2 | 42310 (BTU/hr) |
| Moisture Removal | 6 (Ltr/hr) |
| Airflow- High 1 | 1650 (M3/h) |
| Airflow- High 2 | 972 (cfm) |
| Power Supply | 380-415/3/50 (Volts/Q/Hz) |
| Running Current AMP | 8.1 (Amps) |
| Power Consumption | 4350 (Watts) |
| EER | 2.85 (w/w) |
| Indoor Unit Net Weigh | 40 (Kg) |
| Outdoor Unit Net weight | 102 (Kg) |
| Noise Level (Indoor Unit) | 36 (dB) |
| Pipe Length Maximum | 50(20) - m |
| Operating Temperature | 55 Deg.C |
| Refrigerant | R-410 (Gas) |
| Compressor | Scroll |
| Warranty | 2 Years on compressor and 1 year spare parts with free service. Not dust Clean. |