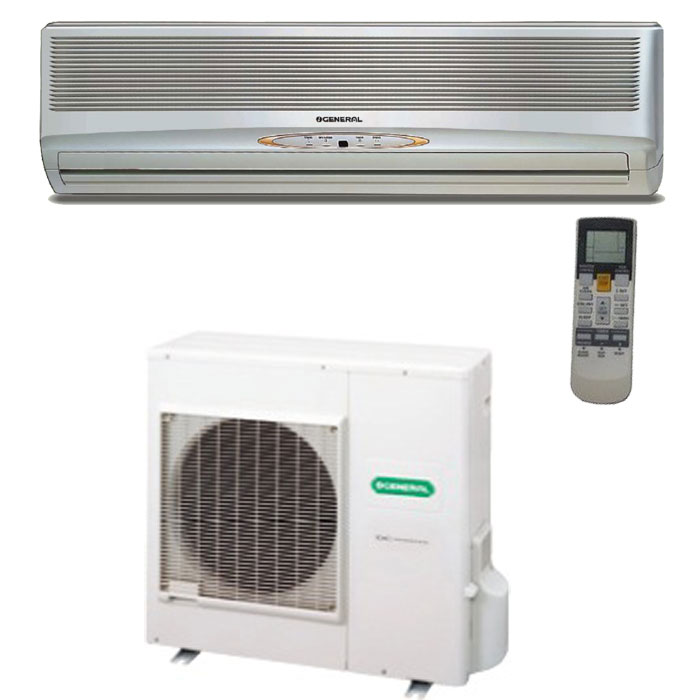 Split AC price in Bangladesh
General Ac 2.5 Ton price in Bangladesh I ASGA30ABC I

Fujitsu General Ltd. (Japan), Made in Thailand.

British Thermal Unit Tested.

Self-Imported, Since 1983

Cooling Capacity High.

Negative air ions deodorizing filter.

Power saving Mode High.

Auto Clean and Washable filter

Compressor: Admiral or Bristol
Availablity:
Out of stock
৳ 170,000.00
"General Ac 2.5 Ton price Bangladesh"
General ASGA30ABC always provide high quality and environmental friendly product, General Ac 2.5 ton price Bangladesh established good consumer reviews by cause of product service is higher. You will not find same product in other brand. Perfect BTU, fan motor, condenser, cooling capacity and compressor is genuine and origin of Japan. Most of the Bangladeshi people use the "General Ac 2.5 ton price bd" in their office or personal room. It has massive order in our country. You can order place for it and we can confirm to you about this product with high authenticity. It's only self imported and from Thailand. Our organization has 32 years business and service goodwill all over Bangladesh.
Unusual Features:-
Cooling Capacity High.
Super Quiet Function.
Auto Clean and Washable filter.
Negative air ions deodorizing filter.
 Eco-Friendly coordination.
Air Purifying meaning.
 Backlit display in remote.
LED Wireless Remote Control.

24 Hour On/Off Timer.
Self diagnosis scheme.
Compacted drawing & elegant shape.
Dehumidification role.
Air Filter: Anti-Fungus & Bacteria.
3 D Airflow.
Comfortable Mode.
Intelligent Eye.
 General Ac 2.5 Ton price bd
General Air conditioner is the world leading cooling device. It is assembled in Thailand with high authenticity. We know, General is the top brand in Bangladesh. It is  high quality and service oriented product.  General Air Conditioner 2.5 ton price Bangladesh is the unique product and very demanding item. www.generalacpriceinbangladesh.com  is online General Ac showroom in Dhaka Bangladesh. You will get original General brand Air Conditioner in out online store www.generalacpriceinbangladesh.com. We are after sale service provider in all over Bangladesh. Our every product is more authentic and most reliable. General Ac 2.5 Ton price Bangladesh is the excellent product in order to that it has world class features and specification, here are some idea: accurate cooling ability, power consumption, Eco-friendly system, Admiral compressor, low voltage aptitude, Auto mode function, excellent filter and environment friendly service. So, General 2.5 Ton split Ac price Bangladesh is very demanding product.
| | |
| --- | --- |
| Origin | Fujitsu General Ltd (Japan). |
| Assembled by | Thailand |
|  Model | ASGA30ABC / AOGR30 |
| Exact BTU | 30000 |
| Coverage Space | 280 (Sft) |
| Energy Saving Unit | Neno Technology |
| Star Rating | ***** |
| Cooling Capacity 1 | 7,117 (Watts) |
| Cooling Capacity 2 | 30,200 (BTU/hr) |
| Moisture Removal | 2.7 (Ltr/hr) |
| Airflow- High 1 | 1090 (M3/h) |
| Airflow- High 2 | 650 (cfm) |
| Power Supply | 220-240/1/50 (Volts/Q/Hz) |
| Running Current AMP | 15.5 (Amps) |
| Power Consumption | 2560 (Watts) |
| EER | 2.78 (w/w) |
| Indoor Unit Net Weigh | 14 (Kg) |
| Outdoor Unit Net weight | 50 (Kg) |
| Noise Level (Indoor Unit) | 46 dB (dB) |
| Pipe Length Maximum | 20(7.5) (m) |
| Operating Temperature | 55 Deg.C. (Deg.C) |
| Refrigerant | R22 (Gas) |
| Compressor | Admiral or Bristol |
| Warranty | 2 Years on Compressor & 1 years Service wit spare parts. Not Dust clean. |