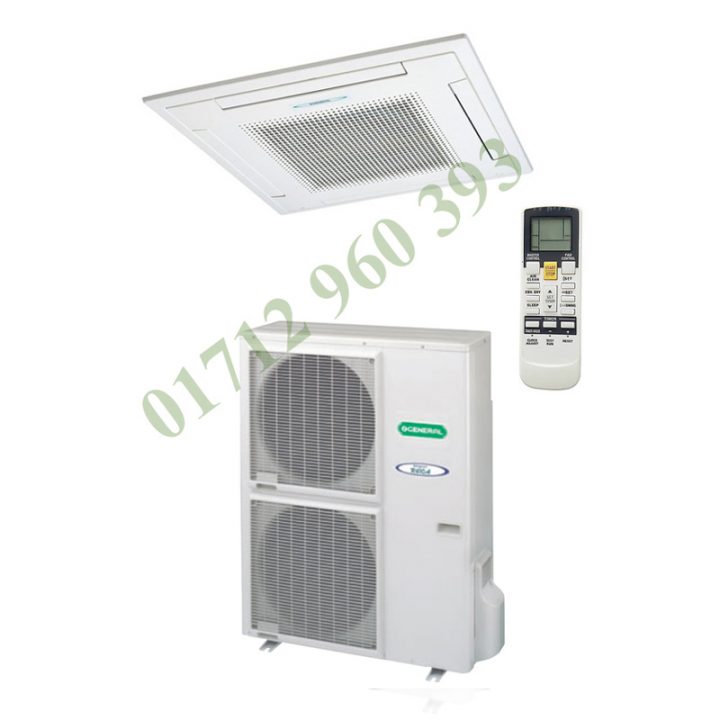 Cassette AC price in Bangladesh
General Ac 5 Ton Price in Bangladesh I Cassette Type I AUG54FBW

Fujitsu General Ltd. (Japan), Made in Thailand.
British Thermal Unit Tested.
Self-Imported, Since 1983
Quiet Operation
Moisture Removal
Up/Down Swing Flaps
Automatic Flaps
Auto Shut Flaps
Automatic Air Flow Adjustment .
Sleep Timer
Program Timer
Connectable Distributing Duct
Connectable Fresh Air Duct
Refrigerant R410A, Protect Earth Allopatric
Suggested area : 300 sq.ft. or above
Always use the remote controller to control the operation of the air-conditioner instead of the power breaker.(Turn off the power supply until the air-conditioner has been stopped for 2 to 3 min.)
Showroom: Dhaka-Chittagong-Sylhet
Contact: 01712 – 960 393
Intro: Fujitsu General Ltd is the manufacturer of General Ac. It is located in the Japan,Osaka. They are export worldwide with Bangladesh. They are produce for personal or commercial product. General Air conditioner is a premier superiority and foremost brand in the world. On the other hand, General Ac is a top brand name in the Bangladesh. They have some special quality for super cooling. So, General is the best for our climate.
Description: General Cassette Type Air conditioner is a grate invention. It is apply in industrially. Some time, it is use in personally. General Cassette Air conditioner has two dissimilar unit, indoor and outdoor unit. Outdoor is large size and indoor is square size. It also fashionable Air conditioner and they are give 4 way air flow. General Ac 5 Ton is easy washable item and accurate btu (54000-k). We are certified importer Dealer Distributor of General AC 5 Ton price Bangladesh cassette type. Here are various types of facilities for using. And then, have some world class features. We are provide in our specification table.
Related Features:
Energy Saving Mode Top.
Power consumption Unit.
High Energy Efficient part.
4 behaviors Air Swing way.
Noise Level Indoor fairly low down.
Cooling aptitude superior.
Wonderful tranquility.
Swift and trouble-free setting.
Auto germ-free and Washable filter.
Apathetic air ions deodorizing filter.
Temperature variation Digital.
Eco-Friendly assortment.
Dense & fashionable Shape.

Air Filter: Anti-Fungus & Bactria.
Well-built indoor & Out Door unit.
High proficiency.
3D Airflow.
Tranquil Mode.
Intellectual Eye.
Customary enlargement.
Deodorizing Function.
Air Purifying Function.
Remote manager with back-lit show.
LED Wireless Remote Control.
24 Hour On/Off Timer.
Auto Restart after Power Failure.
Self Diagnosis & Digital exhib
Here are all features of General Air Conditioner 5 Ton price Bangladesh. We are briefly described about our product for our valued client.
| | |
| --- | --- |
| Origin | Fujitsu General Ltd(Japan). |
| Assembled by | Thailand |
| New Modle | AUG54BW |
| Exact BTU | 54000 |
| Coverage Space | 450 (sft) |
| Energy Saving Unit | Energy Saving Unit (Smart). |
| Star Rating | * * * * * |
| Cooling Capacity 1 | 13900 (Watts) |
| Cooling Capacity 2 | 54428 (BTU/hr) |
| Moisture Removal | 2.5 (Ltr/hr) |
| Airflow- High 1 | 1780 (M3/h) |
| Airflow- High 2 | 1048 (cfm) |
| Power Supply | 380-415/3/50 (Volts/Q/Hz) |
| Running Current AMP | 9 (Amps) |
| Power Consumption | 5200 (Watts) |
| EER | 2.90 (w/w) |
| Indoor Unit Net Weigh | 40 (Kg) // 296 x 830 x 830 (mm) |
| Outdoor Unit Net weight | 1152×940×370 (mm) |
| Noise Level (Indoor Unit) | 38 (dB) |
| Pipe Length Maximum | 50(20), m |
| Operating Temperature | 55 Deg.C |
| Refrigerant | R-410 (Gas) |
| Compressor | Copland-Bristol-Scroll |
| Guarantee | 2 Years Compressor & 1 year Free service with Spare Parts. |