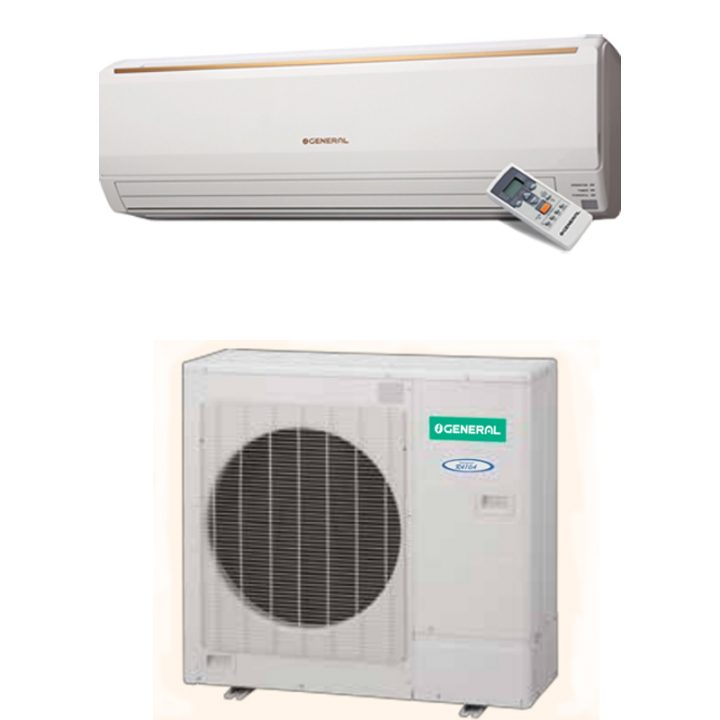 Split AC price in Bangladesh
General Air Conditioner 1.5 Ton price in Bangladesh I ASGA18FMTB I
Fujitsu General Ltd. (Japan), Made in Thailand.
British Thermal Unit Tested.
Self-Imported, Since 1983
Easy installation & service oriented.
Smart Energy saving Unit.
Cooling capacity High with Anti -bacterial washable filter.
Temperature Adjustment digital.
Higher Cooling capacity.
Showroom: Dhaka-Chittagong-Sylhet.
Contact: 01712- 960 393
General Air Conditioner 1.5 Ton price in Bangladesh
Fujitsu General Ltd, Japan is the producer of General Air Conditioner 1.5 Ton price in Bangladesh. It has extra cooling power and unlike features. This is released at the present, 2018 Model. Our every single one client is satisfied with General split Ac (ASGA18FMTB).
Products Description: This is a Rotary Compressor Air conditioner. Rotary Compressor is smaller than Admiral Compressor. Rotary is the energy saver. Condenser unit is made by 100% Copper; therefore there is no risk for out of Gas (Refrigerant). You may think that it is same as ASGA18FMTA, but it has several dissimilar from ASGA18FMTA. ASGA18FMTB is the unsurpassed for your home or office cooling system. Double Air swing and Temperatures adjustment is digital. Here are 3D Air Flow facilities and Led remote control system. You will find auto restart system, when you temperature is right. Consequently this is greatest for you.
Here are various types of world Class features:
Power consumption High.
Air Swing System Multi.
Cooling Capacity High.
Auto Clean and Washable filter.
Negative air ions deodorizing filter.
Temperature Adjustment Digital.
Eco-Friendly System.
Anti Corrosion Body.
Compact & Smart Shape.
Air Filter: Anti-Fungus & Bactria.
High Efficiency Air flow.
3D Airflow.
Comfortable Mode.
Air Purifying Function.
Remote Controller with back-lit display.
LED Wireless Remote Control.
24 Hour On/Off Timer.
Auto Restart after Power Failure.
General split AC price in Bangladesh
Products Use: General Ac 1.5 Ton (ASGA18FMTB), you can use at your home, office or any other open space. It will cover 180 square feet with 9 feet height. Without any gather space, control room, waiting room, class room and Mosjid. If you want to use that type of space, first of all you have to calculate your space and cooling capacity. Indoor unit set in your indoor wall and outdoor will installed at your outdoor wall by best technician. We have some rules to use better way air conditioner run. Thus, you have to read it with carefully.
| | |
| --- | --- |
| Origin | Fujitsu General Ltd. (Japan) |
| Assembled by | Thailand. |
| New Modle | ASGA18FMTB |
| Exact BTU | 18,000 |
| Coverage Space | 120-160 (sft) |
| Energy Saving Unit | Advance Technology. |
| Star Rating | 5 |
| Cooling Capacity 1 | Watts (5,305) |
| Cooling Capacity 2 | BTU/hr (18,100) |
| Moisture Removal | Ltr/hr (2.0) |
| Airflow- High 1 | M3/h (985) |
| Airflow- High 2 | cfm (580) |
| Power Supply | Volts/Q/Hz (220-240/1/50Hz) |
| Running Current AMP | Amps (8.8) |
| Power Consumption | Watts (1920) |
| EER | w/w (2.76) |
| Indoor Unit Net Weigh | Kg (14) |
| Outdoor Unit Net weight | kg (46) |
| Noise Level (Indoor Unit) | dB (33 dB) |
| Pipe Length Maximum | m ,20 (7.5) |
| Operating Temperature | Deg.C (55 Deg.C) |
| Refrigerant | Gas (R-22) |
| Compressor | Hyper Tropical Rotary.(Energy Saver) |
| Warranty | 2 Years Compressor & 1 Years Service Warranty with spare parts . (Not dust clean) |