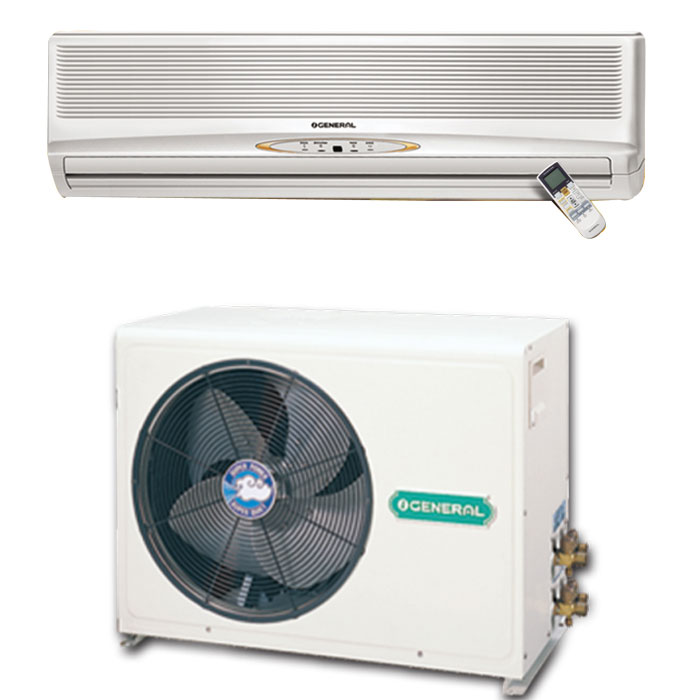 Split AC price in Bangladesh
General Split Ac 1.5 Ton price in Bangladesh I ASGA18ABC I

Fujitsu General Ltd. (Japan), Made in Thailand.

British Thermal Unit Tested.

Self-Imported, Since 1983.

High Energy Saving Mode.

Compact and Smart shap.

Air-filter: Anti Fungush & Bectria.

3D Air flow with Auto Restart function.

Compressor: Bristol or Admiral.

General Ac Showroom in : Dhaka-Chittagong-Sylhet.

Contact:

01712 – 960 393
Availablity:
Out of stock
৳ 121,000.00
General Split Ac 1.5 Ton price in Bangladesh
Fujitsu General Ltd, Japan-Thailand is the producer of General split Ac 1.5 Ton price in Bangladesh (ASGA18ABC). This is a primal and crests selling General Air Conditioner in bd.
Product Description: General is a global kind Air conditioner in Bangladesh. Most of the Bangladeshi Air conditioner (AC) user using the General split Ac 1.5 Ton price in Bangladesh. Are you finding original Japanese General Brand Air Conditioner? Yes, we confirm to you. We know, here is used to Admiral or Bristol brand Compressor. This kind of Compressor is larger than any compressor in Bangladesh. And service Guarantee is authentic.  Compressor, Condenser and any spare parts is Japanese. It's old model (ASGA18ABC) but it has long lasting capacity from other than Air Conditioner in Bangladesh. . It has global standing in favor of service. We have 28 years goodwill in Bangladesh as a finest and superior ac seller. You can buy General split Ac price in Bangladesh with 100% with assurance. You could not find duplicate or replica.  ; www.generalacpriceinbangladesh.com is the reputed seller of this unique Air Conditioner (AC). When you buy a product, you should buy it from best shop and reputed seller in your country. Our business kindness is regarding 38 years in Bangladesh with experienced support. Furthermore, this General split Ac price in Bangladesh is super power cooler.
Product Use: General ASGA18ABC model is the most outstanding and split type Air Conditioner in Bangladesh. You have to use General split Ac 1.5 Ton price in Bangladesh 180 square feet space with 9 feet height. It will be change, if you want to another space, For example: control room, Seminar Room, hall Room and   any gathering space, where many people are gathered. It is called to personal or light Commercial Air conditioner (AC). This product is price very high but quality is also top. Fujitsu General Ltd, does not compromise about quality for minimize price. It is faster cooling Air conditioner with high Air flow.   Admiral or Bristol compressor is the key maters because it is the long run service provider Air Conditioning compressor. It has tops customer reviews; many people know it is import in Bangladesh esquire electronics ltd.  Super cooling mode and long run durability is the best character of General split Ac 1.5 Ton Ac price Bangladesh. Air Filter and Air swing system is excellent from other than. Timer setting and Auto restart function doing work best because it may different to other Air Conditioner. It has self Diagnosis system for own problem solve. You will find in other brand like As General split Ac price in Bangladesh.
Product Features of "General split Ac 1.5 Ton Price in Bangladesh"
Smart Energy Saving Mode.
Cooling Capacity High.
Quick and Easy Installation.
Auto Clean and Washable filter.
Negative air ions deodorizing filter.
Temperature Adjustment Digital.
Eco-Friendly System.
Compact & Smart Shape.
Air Filter: Auto Clean.
Air Filter: Anti-Fungus & Bacteria.
LED Wireless Remote Control.
Air Swing System Multi.
Strong indoor & Out Door.
High Efficiency.
3D Airflow.
Comfortable Mode.
Intelligent Eye.
Air Purifying Function.
24 Hour On/Off Timer.
Auto Restart after Power Failure.
Self Diagnosis with Digital Display.
Remote Controller with back-lit display.
| | |
| --- | --- |
| Origin | Fujitsu General Ltd (Japan) |
| Assembled by | Thailand |
|  Model | ASAGA18ABC |
| Exact BTU | 18000 |
| Coverage Space | 180 (Sft) |
| Energy Saving Unit | Smart Energy Saving (Advance). |
| Star Rating | * * * * * |
| Cooling Capacity 1 | 5.4 (Watts) |
| Cooling Capacity 2 | 18100 (BTU/hr) |
| Moisture Removal | 4.3 (Ltr/hr) |
| Airflow- High 1 | 760 ()M3/h |
| Airflow- High 2 | 447 (cfm) |
| Power Supply | 220-240/1/50 (Volts/Q/Hz) |
| Running Current AMP | 9.4 (Amps) |
| Power Consumption | 2.18 (Watts) |
| EER | 2.48 (w/w) |
| Indoor Unit Net Weigh | 16.0 (Kgs) |
| Outdoor Unit Net weight | 66.0 (Kgs) |
| Noise Level (Indoor Unit) | 34 dB |
| Pipe Length Maximum | Yes |
| Operating Temperature | 50 Deg.C |
| Refrigerant | R22 (Gas) |
| Compressor | Rotary Advance |
| Warranty | 2 years  compressor and 2 year free service warranty with spare parts. Not dust clean |